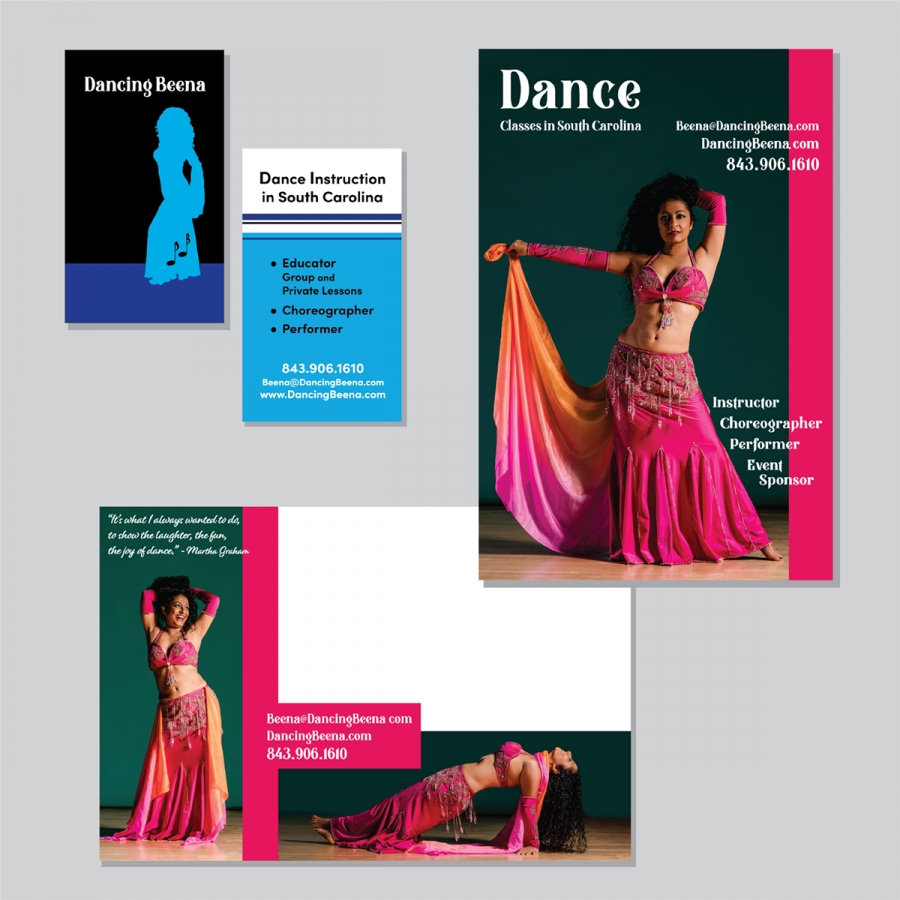 An educator, a choreographer and a performer – meet Dancing Beena!
Dancing Beena is an educator, a choreographer and a beautiful performer. Originally from India, she now lives in SC and performs and teaches all around Charleston and the state. Beena was influenced by the Egyptian and Lebanese styles of Arabic dance. She started dancing in Chicago in 2003 and studied with Jasmin Jahal and other educators. She has trained in Karate for over 18 years and Keno for 10 years. Yoga, Pilates and Qigong round out her practice. She brings these healing art, marital art and dance art disciplines into her classes. Her core mission is to guide her students in dance and to bring joy, confidence and fun to the classes. She encourages people of all levels to join her and give dance a try.
As a graphic designer, I work with a variety of business types which makes my work so fascinating. Every new job gives me a window into a person and a story I knew nothing about. Meeting Beena is a perfect example. I've never worked with a dancer before and meeting her in late 2021 introduced me to the business of dance and the range of opportunities for someone with her talents. She expressed an interest in updating her logo and maybe working on a few other projects together. She had been creating her own designs in Photoshop, so she already had an eye for design, layouts and an excellent starting point for me to work from.
Wonderfully distinctive, the silhouette of Beena dancing was the basis for her existing logo. My job was to take the image and refine it, while creating a vector file we could use on any project in the future. Drawing inspiration from her gorgeous costumes, the color palettes we chose for both the business card and the postcards were a vibrant mix of shades. The bright turquoise is a perfect backdrop for both the black and white contrasting type and makes the silhouette pop. While, the energizing, rich magenta brings movement and femininity to the postcards, enhancing the photos. Beena chose several quotes to use on the postcards and after trying them out in layouts, she decided on the one by Martha Graham which pairs perfectly with the joy on Beena's face.
"It's what I always wanted to do, to show the laughter, the fun, the joy of dance."
I look forward to working with Dancing Beena more in 2022 and hope I get the chance to see her perform.
To learn more about Dancing Beena and her classes, visit her website: