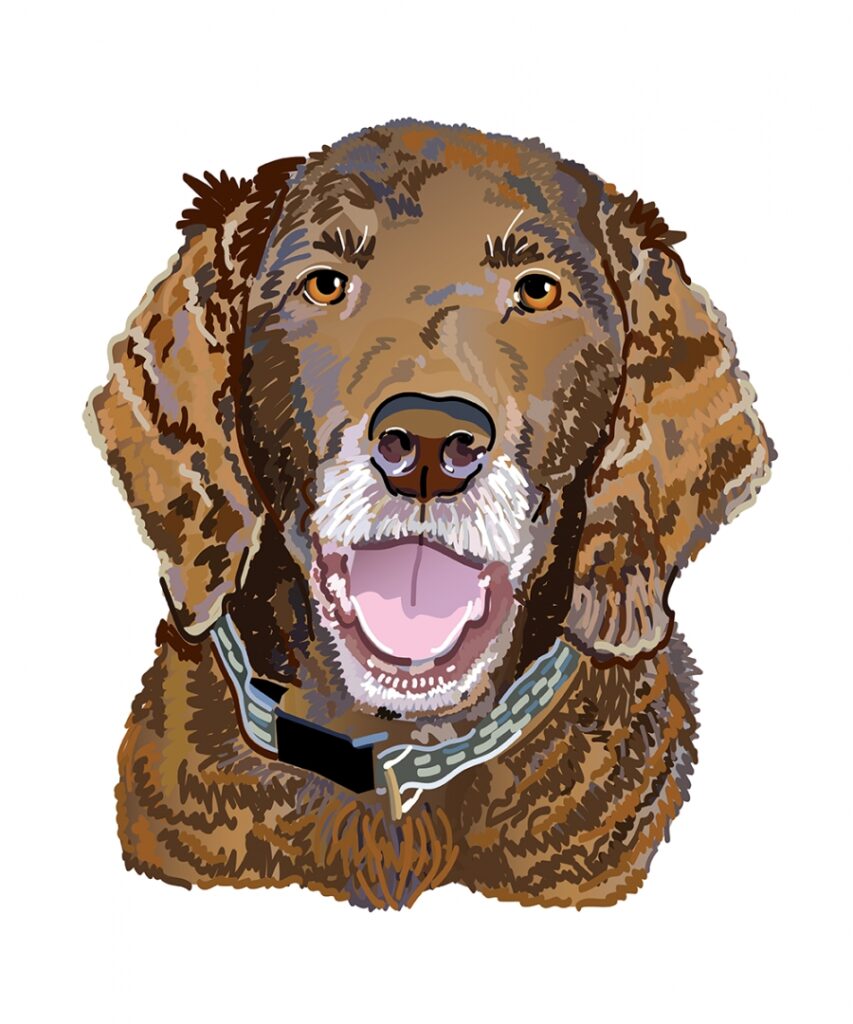 A custom pet portrait of a Boykin Spaniel goes to Florida …
Last week, I shipped out another custom pet portrait. This one a Boykin Spaniel, our official SC dog. South Carolina designated this spaniel as the official state dog in 1985. Known for their mild temperament and highly regarded as pets or hunting dogs, the boykin spaniel was originally bred for hunting wild turkeys and ducks in the Wateree River Swamp of South Carolina. Nowadays, the boykin is an extremely popular breed and when you walk the beaches of Charleston, you'll see plenty of boykins running in the sand.
This portrait request came from Florida (a SC transplant) and I received two photos to get me started on the project. One was an inside shot and the second was of the dog laying on the front porch. The lighting was completely different making the dog's coat a very dark brown in one shot and a light, golden brown in the second shot. I decided to go with the lighter tones. Although I was happy with the final, I will probably go a little darker on the next boykin I illustrate. It's a learning process and this was my first boykin spaniel. Fortunately, the client was very happy with the portrait. My own critiques are always the most harsh!
Today, I got a text from the owner of this friendly pup and she said,
"Yahmi is a handsome boy, especially in your portrait. But he has been in trouble every day this week … the fame has gone to his head!"
Enjoy it while you can, Yahmi – I'm sure the limelight will dim!
My custom pet portrait business is growing slowly and I hope to soon develop a line of greeting cards using the portraits. I draw the portraits from a photo (or photos) provided and use the program Adobe Illustrator. The final piece is an 11 x 14 digital print on Epson UltraSmooth Fine Art Archival Photo Inkjet Paper. I use some Prismacolor pens to complete each portrait. Currently, orders take two weeks to ship and can be ordered by emailing me. All I need to get started is the pet's name and some nicely lit close up shots! My goal for this business is to open an Etsy shop where all my custom portraits will be available for purchase, along with the greeting cards.
To see more of my pet portraits, click here: www.lefthandgraphicdesign.com/pets or follow me on Instagram!