Say hello to Pilot Marine! A new name, a new logo.
Earlier this year, Doug Alling met me for lunch to discuss a new branding campaign for Knox Marine. I've done many projects with Doug and Knox Marine over the past few years and looked forward to hearing more about the new direction they planned to go. Doug and the team had made the decision to change the name to Pilot Marine. A new name and logo is a big undertaking, in most cases because the logo has to be changed everywhere it is being used from the website to printed materials and all social media. For some companies, it means having a new sign made, redoing vehicle signage and revamping marketing campaigns. Because of this, companies who need an update or have an interest in a logo refresh often hesitate to take the step.
Making the choice to update and then moving forward with intention can make all the difference in how smoothly the transition takes place. At Pilot Marine, the entire team got in on the vote and after Doug and I worked through a number of ideas, we had some layouts to present. A team vote can be tricky, but Doug wanted everyone with the company to be on board and excited about the change. Fortunately, with Doug's clear direction, we had only a few tweaks to make and then got a thumb's up from everyone.
For Pilot Marine, they had several reasons to do an update and I wanted to help make the change as seamless as possible. Our Atlantic coast keeps companies like Pilot Marine busy throughout the year and even a small pause can be hard to justify. The web manager moved quickly once the final choice was made and the website was updated immediately.
Pilot Marine Surveyors & Consultants is one of America's premiere marine survey firms. The company specializes in damage survey and investigation, with clients ranging from regional insurers to the world's largest marine insurance companies. They operate in VA, SC, NC, GA, FL, and MD and the team of accredited surveyors investigates hundreds of losses each year.
Pilot Marine Surveyors & Consultants has conducted nearly 10,000 inspections and the team has over 175 years combined marine experience.
Soon after completing the new logo, Doug asked me to design an ad for Claims Magazine and you can see that ad here on the bottom left of the page.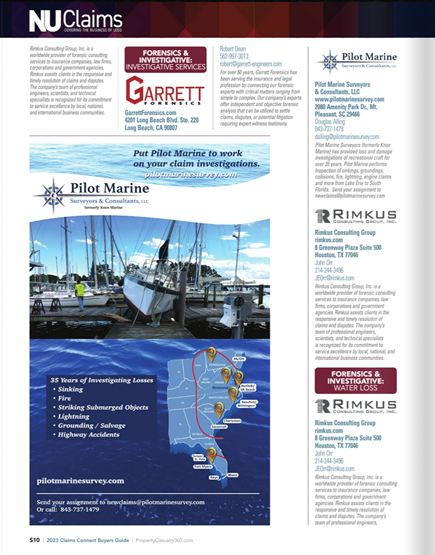 Visit their website to discover more about Pilot Marine: