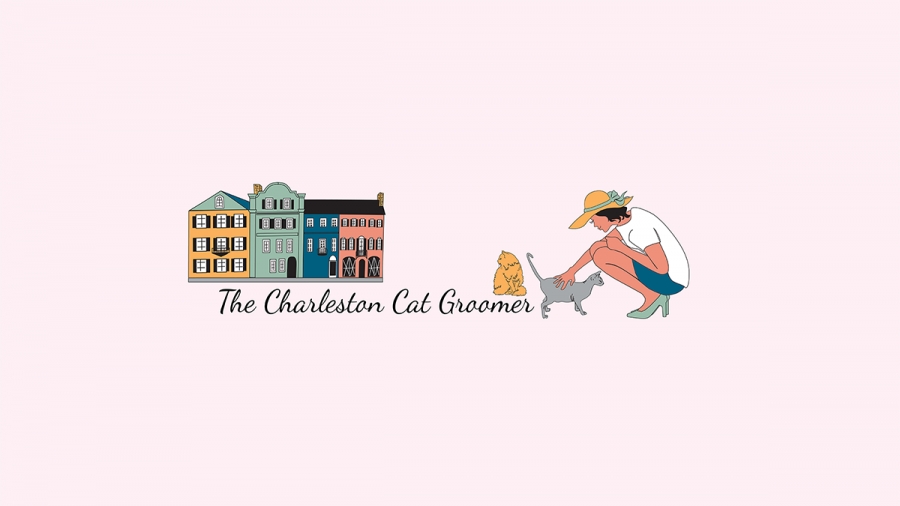 A YouTube banner for the Charleston Cat Groomer is now posted!
One of my favorite clients returned to me two weeks ago for something new! The Charleston Cat Groomer team needed a YouTube banner to update and professionalize their channel. YouTube banners are a bit tricky because the file you will upload looks very different from the actual banner on the channel. Banners for social media all have specific sizes and you can't stretch or compress a jpg or png image to try and make it fit. It will only distort the image (awkwardly!) and not give you good results. Have you ever noticed how people post a photo for their Facebook cover and when you go to take a look, you only see parts of the image? Maybe only a few noses and chins? The image was not sized to fit – and it may look too large, pixelated, blurry – and with branding, it may even have part of your logo cut off. It's not a professional message you're sending when you don't use the resources you have to get it right. And if you get it right, it's wow!
To make things even more complicated, social media image sizes seem to change all the time! You'll need to make sure you get the latest and most updated dimensions (so don't pull up that article from 6 years ago to find correct sizing.) As your business grows and expands its marketing, you may need sized images for Instagram, Twitter, Linkedin, Snapchat and more – and every single image within the apps will have specific size requirements – from profile photos to posts. Editing photos may be a piece of cake for you, but editing a vector graphic is more complicated. When you need visual content for your brand, it's imperative to get it right.
You can find banner and profile image sizes easily by googling what type of image you are trying to create, but you might not have the program to size, crop or create the correct size. If I design a logo for you, I'm always happy to help create any type of banner you need later on for a particular use. Or even if I didn't create your logo, I may be able to help you with what you need – depending on what type of files were provided to you by your designer. If elements of the design need to be altered and/or moved around to fit a long horizontal banner, it will require an ai/eps to make to make those changes.
You can see the file here that I created for The Charleston Cat Groomer and then you can see the resulting banner here on the channel …
https://www.youtube.com/channel/TheCharlestonCatGroomer
– along with some educational, entertaining and funny videos! Whether you have a cat of your own or not, take a few minutes to check out a few of these fun videos. The Charleston Cat Groomer can be found at her beautiful salon in Mt. Pleasant, SC and online.