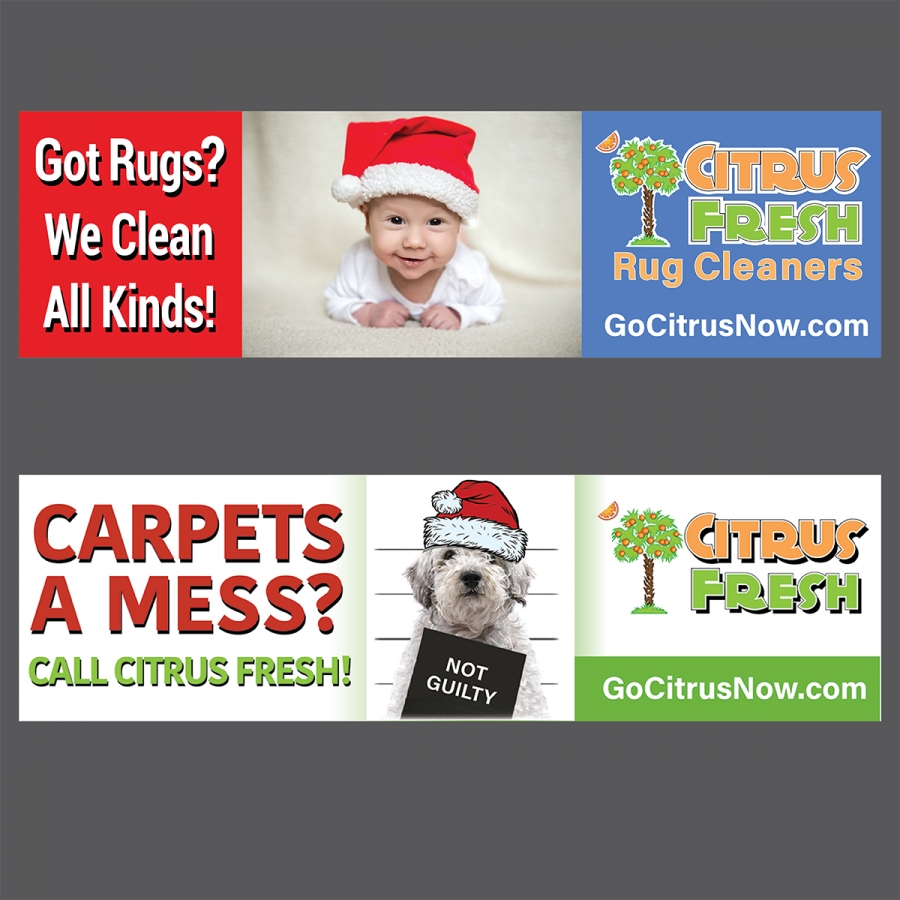 Designs for the holidays can range from 5 x 7 inches to 14 x 48 feet ….
Every year, as the holidays approach, I get requests for holiday card designs, posters for Christmas musicals and my illustrated pet portraits for holiday gifts. This year, while working on a 5 x7 holiday card design for a local company, I had a phone call from Mary Broome at Citrus Fresh.
I've blogged about Citrus Fresh before, and they are the carpet and rug cleaning professionals of Charleston – cleaning your carpets and upholstery with a safer, healthier and greener method. They also offer other services and you can see their extensive line of services on their website here:
I've done some other projects this past year for Citrus Fresh, including billboards and banners, and this new request was for HOLIDAY billboards. Something new for me and a fun addition to my portfolio! We already had the basic layouts from designs I had done earlier in the year, so changing them to something festive was fairly easy – and Mary is great at expressing her ideas and providing images. We changed the 'baby on a rug' photo to a Santa-hat baby and added a Santa hat to the "guilty pup" graphic. A small change in the color scheme and the new holiday billboards were almost ready to go. You may not know that billboard sizes can vary quite a bit, even though they all look pretty similar in shape. Because these billboards were going to two areas of town, I needed to resize the originals for a larger surface. One job as a graphic designer that most people don't think about is the wide range of sizes that must be created depending on the media – whether it be ads, billboards, social media or printed materials. Size requirements are important to get on any project before you get started. Although square designs are common for social media, there are so many variables – and customers want to get exact sizing so all they have to do is upload. I also provide a range of file types since I don't usually don't know the file types they may need for printing purposes.
If you're local and driving around Charleston, keep your eyes out for these light-hearted, holiday billboards and visit Citrus Fresh for your rug cleaning!