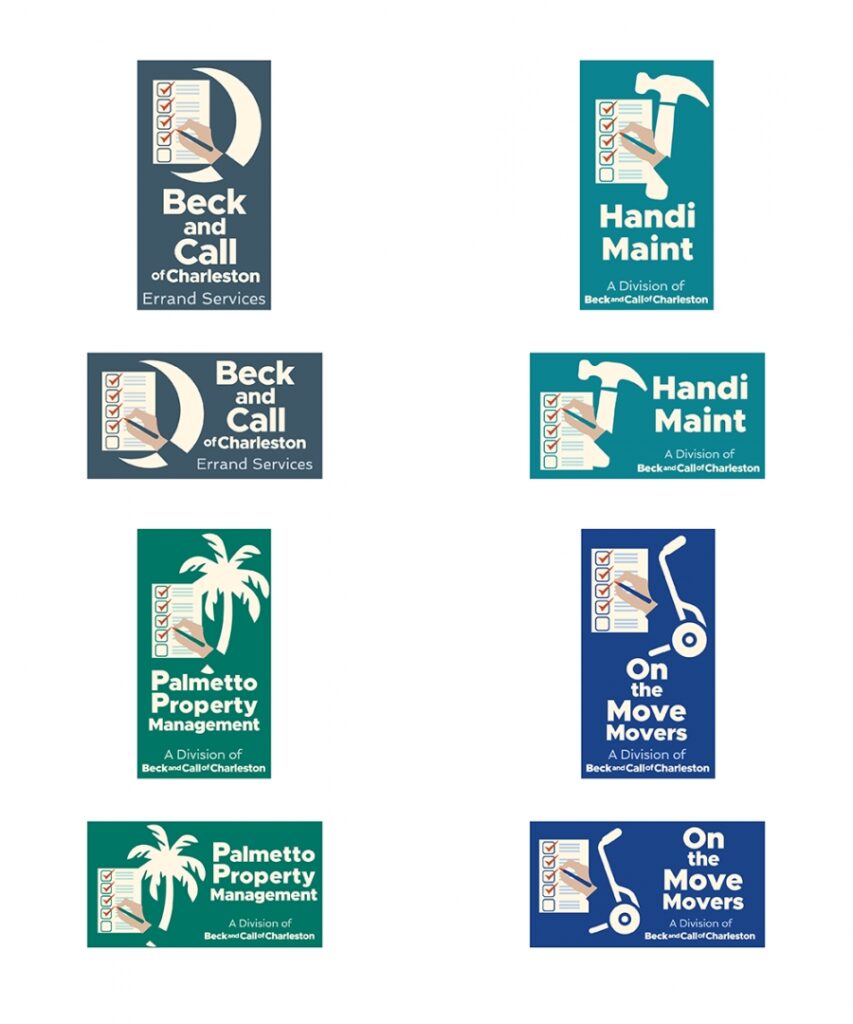 Two years later, here in 2019, Beck and Call of Charleston is growing!
In June of 2017, I was contacted by a couple interested in a logo for their brand new personal assistant and concierge business – located in Charleston. We met at a coffee shop to discuss their needs. With a new business, the logo should always come first and the initial printed needs can be business cards, signs, ads or just logo files for a website. The owners of Beck and Call of Charleston were interested in rack cards for display around the Charleston area. The rack cards would identify, in a bullet list, some of their many services. Rack cards are great marketing pieces here in Charleston and are picked up by tourists, new residents and locals – and can be be found in shops, tourist centers and restaurants. The size is usually standard in order to fit in the rack card display. With a rack card, it's important to have the top portion visible in the rack card holder with your logo on it and something eye-catching, like an offer, discount or just a bold-font service description. If it doesn't get grabbed, it won't get read!
Now two years later, here in 2019, Beck and Call of Charleston has been very successful with their concierge business and are adding on new services. They reconnected to hire me to design three new logos. Ready to add on three distinct divisions, they wanted each new logo to include the checklist, which would be the shared symbol for the company moving forward. I worked with colors and symbols, trying to keep the Charleston coastal feel and the logos similar in style to the crescent moon. The first layout was a "go" – they were extremely pleased! It's not that often that layout #1 gets it completely right, but this time … no changes, except for my own fine-tuning to make sure everything was perfect and ready for print or online. As with the original logo, I provided horizontal and vertical versions of the logos.
Beck and Call of Charleston seems to be on track for a long-lasting and ever growing business. Congrats, guys!